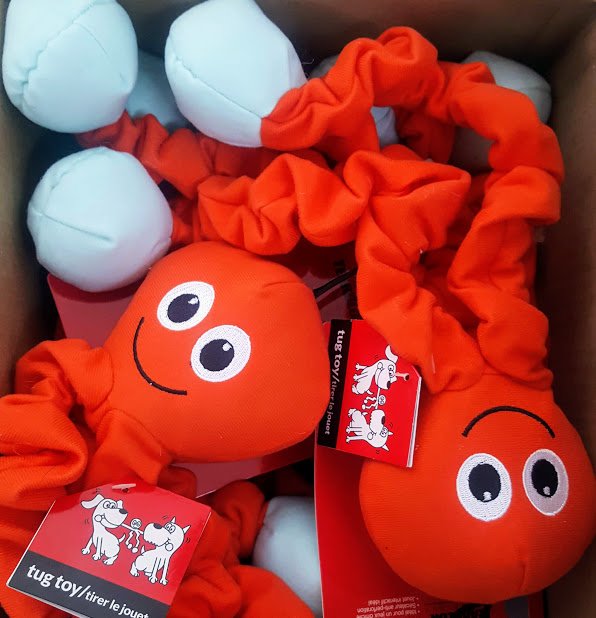 Who wouldn't love opening a box like this?
We just got a big new box of octopusses! Or is it octopi? Either way we opened a big box of happiness today at Lulu's Paw Boutique.
The
Stretchy Octopus is Jack's favorite toy
, and he's not alone. We just had a customer in buying replacements for her pup who loved on his first one for two years. And yes, I said replacements with an "s." She's from out of town and wanted to make sure she had a spare one, plus a couple more to give to friends.
I'm telling you, the octopods (?) are that good. They have squeakies. They have crinklies. They have four legs - I know, but still an octopus somehow - that are super stretchy and fun to pull.
And they don't really look it, but they're weirdly tough. Like I said, that customer's dog loved on his for two years.

The octopus story
A few years ago a friendly sales lady came in to show me some dog toys. The
Stretchy Octopus dog toys
are made by SmartPetLove, which makes a lot of cool stuff for dogs, as part of their TenderTuffs collection. It's made from tear-resistant fabric they call Tearblok technology - "Soft, strong & lasts long."
I was skeptical.
Jack is a Jack Russell Terrier. He is tough on toys. Really tough. He was a wee puppy when he ate his first Kong. Toys that say "tough" or feature a picture of a Jack Russell on the packaging have all been torn to shreds in minutes. You say it's made of fire hose? Jack will chew it up and spit it out - thank goodness. Since that Kong experience he just spits out the little pieces instead of eating them.
But this was one smart sales lady. She gave Jack a free sample stretchy octopus. He LOVED it. He played with it that day, that week, that month. Every single day for more than 18 months before he put a single tear in it. I won't say he couldn't have torn it up, but he didn't.

SOLD
We've been stocking - and selling -
these amazing octopuses
(I finally looked up the plural of octopus), which come in both orange and purple, and some of their fellow TenderTuffs toys ever since.
And in the bottom of today's box of fun? Another free sample toy - this time it's a Manatee! Instead of a squeak, it kinda grunts. And it has crinklies in it's tail. And, guess what? Jack LOVES it!
Guess we're going to have to put in a new order today.